Latest News
Mental Health Awareness Week podcast
Published: Tuesday, 10 May 2022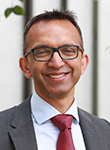 Monday 9 May marks the start of MENTAL HEALTH AWARENESS WEEK
Soumen Sengupta, director, health and social care for South Lanarkshire, features as part of a leader's podcast series for Mental Health Awareness Week.
Each day this week, a Lanarkshire leader is being interviewed as part of the series.
Our leaders impart words of wisdom around loneliness, mental health, covid, self-care and how together we create the conditions for mentally healthy workplaces and inclusive health and social care.
The podcasts can be found on the link below.
Mental Health Awareness Week 2022 - Leaders Podcast (elament.org.uk)