Latest News
When Covid stopped the world, Jill stepped forward into job she loves
Published: Monday, 25 April 2022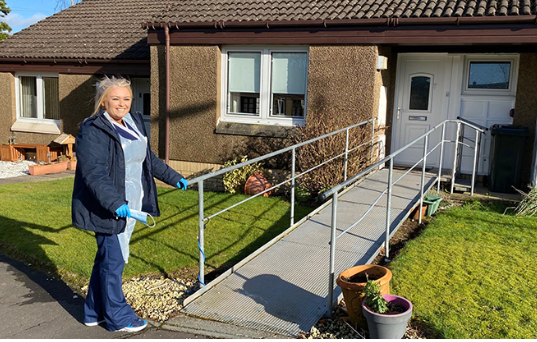 Our special series continues, looking at those working in the heart of our communities as part of our Care at Home service.
The service is recruiting now, and you can find out more online.
Covid-19 may have seen restrictions placed on all of us but for one South Lanarkshire woman, it opened her up to her dream job.
Jill Bell was working in a sports centre when the pandemic struck and lockdown forced the closure of South Lanarkshire Leisure and Culture's facilities, with staff being redeployed to help where they were most needed.
Jill, from East Kilbride, said: "We were told that South Lanarkshire Council needed help in care homes, residential schools and Home Care, and I was selected to assist with the Care at Home service.
"Until then, I had been unaware of the role of home carers but I spent a year-and-a-half delivering PPE to different drops or having home carers coming to collect it from me and I got to meet most of the home carers and see what their job involved, as well as the other services the Care at Home service provided.
"I felt that it was a job I wanted to make a career of and, what was more, the way they spoke about how much they loved their jobs was a major factor in making up my mind to take the plunge and apply for a job with them."
Certain aspects were familiar from her previous job, such as the council pension scheme that she was already benefiting from and that she was relieved she would be able to continue with in her new job. However, becoming a home carer was still a major change of direction for Jill (40), and she was delighted that the training helped in preparing her fully for all aspects of the job.
She said: "We had training in person, such as for moving and assisting and medication at home, but we also completed modules online and took part in Microsoft Teams meeting, so everything was covered even though we were still with the restrictions of the pandemic.
"One thing that was really helpful was shadowing different home carers in a variety of areas, so I was able to see a wide range of what the job involves and build confidence for when I would be going out on my own."
Despite all the training, there was still one part of the job that surprised Jill, but in the most positive of ways.
"Even though I was really looking forward to it," she revealed, "I had no idea just how much job satisfaction you get. I knew the role involved helping people and expected that service users would be grateful, but I just can't express how great it makes you feel when someone is so appreciative because you've helped them have a shower or made them something to eat.
"Of course it's the type of job that you can't take your personal problems or bad mood to work with you – that's obvious. But at the same time, if you've been in a bad mood before work, the job makes you completely forget it.
"In the longer term, I'd love to take the opportunities to further my career while staying in this field, as there are not only opportunities to progress within Care at Home but there are other roles you can move into as well. In the meantime, though, I'm just so happy to be going out each day to do this job. Because you're assisting people with tasks they struggle to do or can no longer manage themselves at all, the work you are doing puts life in perspective, and the constant gratitude you receive makes you feel like a super hero.
"How could anyone not enjoy a job that makes you feel like that?"