Latest News
Q&A with new Director of Health and Social Care for South Lanarkshire
Published: Sunday, 08 August 2021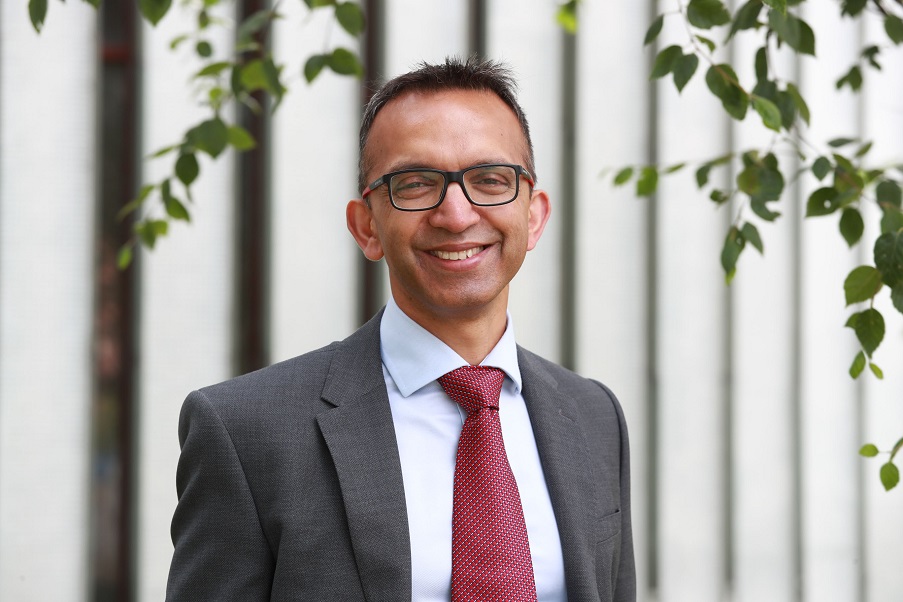 Soumen Sengupta, Director of Health and Social Care for South Lanarkshire has now taken up post.
In this quick-read Q&A, Soumen provides an at-a-glance profile of where's he come from and what drives him.
Q: Welcome aboard Soumen. Tell us a bit about yourself and why you wanted the position of Director of Health and Social Care?
A: Thank you. Having been raised in East Kilbride, I am especially proud to be joining the health and social care family in South Lanarkshire and across Lanarkshire as whole – it feels like a "coming home" of sorts.
I take up post following an extensive career in public health, and in health and social care management. This has included leading strategic transformation programmes at local, regional and national levels.
Engaging with a wide range of people - with different perspectives, expertise and experiences – on complex issues is something I find continually stimulating. Being able to help make a difference to people's lives – sometimes in a very visible manner and other times more subtly – is also incredibly rewarding.
Those were big reasons why I was attracted to the role in the first place, and why I am so pleased to now be in this position to make a positive contribution here.
Q: You mentioned you were proud to be coming to work here. Can you tell us more?
A: I am passionate about the difference that effective community health and social care can make to the lives of individuals, carers and families – particularly in enabling them to live with as much independence and dignity as possible.
From my early days in public health I have been committed to tackling the inequalities that blight the lives of many individuals and communities – as the pandemic has pointedly exposed. Tied to that is my enthusiasm for partnership working and engaging the public in services. We can only meaningfully make progress in addressing "wicked" issues such as inequality if we – teams, organisations and sectors – work better together. And we can only hope to close the gap - and indeed raise everyone up - by better engaging and activating those individuals, families and communities who are at the sharp end of experiencing inequalities, as well as discrimination and marginalisation.
The pandemic has taken a toll on us all in different ways – across all facets of our lives. From the meetings and conversations that I have already had prior to taking up post, I very much appreciate that local health and social care teams – alongside Council and Health Board colleagues – have been working tirelessly in responding to COVID-19. This is also apparent across our colleagues working in primary and secondary care; and those in the third and independent sector. To be honest, I have been both humbled and energised by how driven colleagues are to use the learning from this experience to inform what we do and how we do it going forward.
Q: In terms of leadership, what is important to you?
A: In a nutshell, there's four key principles, or 'Ps', that anchor my approach.
The first and most important "P" is people. It's crucial that those of us in leadership roles value, inspire and empower colleagues. And we all have a role to play in engaging and enabling service users, carers and communities. That's as important now as it's ever been.
Partnerships – this is about the value I place on building strong working relationships to deliver shared outcomes.
Performance – this is about the importance of ensuring and demonstrating that we are delivering positive impact.
And last but not least, prudence - ensuring responsible use of the public pound, and that services and support are fit-for-the-future.
Q: Looking to the future, what's your thoughts?
A: In terms of the here-and-now, it's about addressing - and doing our best to support each other through – considerable demands right in front of us.
That's the immediate focus.
Looking further forward – and I see that as a critical part of my job - then there's also a fifth "P". And that's our having a positive vision.
If there was ever a time for thinking differently about health and social care, it is surely now. The pandemic has served as a graphic reminder that people's health and wellbeing is shaped by the broader circumstances in which they live and the opportunities that are open to them – or, in many cases, not.
But it has also demonstrated that people are not simply victims of circumstance – over the past 14 months many have taken matters into their own hands by helping neighbours and getting involved in community activities for the common good.
We have also learnt what can be achieved when we pull together across boundaries. It is already clear to me that that has been repeatedly demonstrated by individuals and teams across the area - and I look forward to building on that.
I'm also mindful that, despite superhuman efforts, no one is tireless. So, as we continue to navigate the pandemic and chart a course for the "new normal", we all need to be mindful of the importance of self-care (both physical and mental) - and continue to do our best to take care of each other.