Latest News
Event brings support for veterans into sharp focus
Published: Thursday, 05 July 2018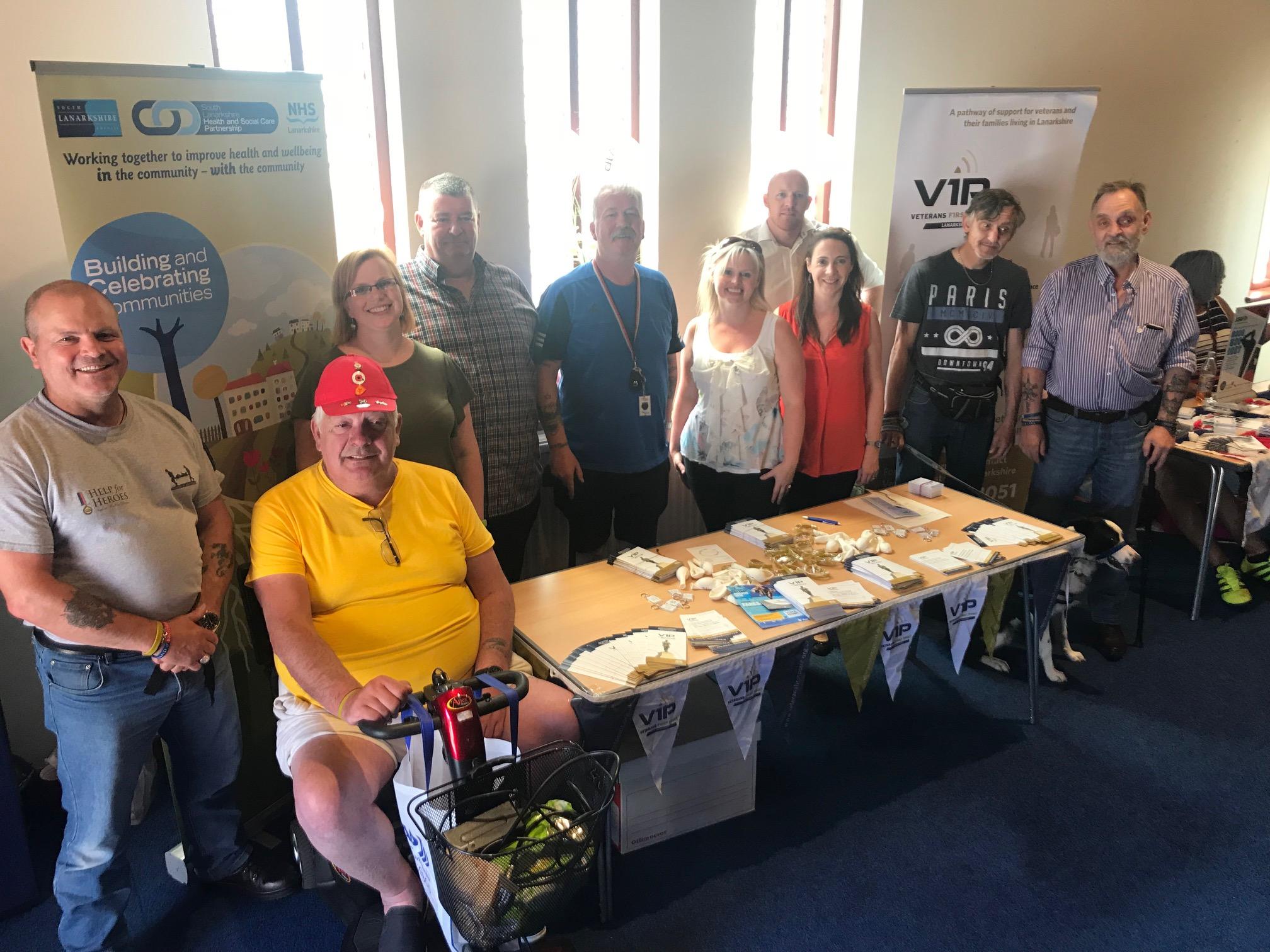 A specialist service that provides accessible, credible and coordinated support for veterans and their families
A specialist service that provides accessible, credible and coordinated support for veterans and their families recently held an awareness event to mark Armed Forces Day.
Veterans First Point (V1P) Lanarkshire seeks to support veterans in all aspects of their lives, including welfare, housing, mental and physical wellbeing.
The free to use service, which is staffed by a specialist team of psychologists, psychological therapists and veteran peer support workers, recently co-hosted the event with the
Veterans Cafe at the King's (VC@ the KC) Motherwell. The VC@ the KC runs every Friday at the Kings Church between 10am – 2pm.
V1P's Dr Jennifer Ring, Counselling Psychologist of NHS Lanarkshire, said she hopes the positive relationship between the two organisations will lead to more exciting events in the future. Dr Ring added: "The key aim of this event was to provide a space for networking and camaraderie – and to showcase all the resources available for veterans in Lanarkshire.
"V1P works in close partnership with many agencies and organisations – many of whom were represented on the day – with the shared aim of supporting our veteran community."
V1P Lanarkshire is a close partnership between veterans, NHS Lanarkshire, the Scottish Association for Mental Health (SAMH) and the Lanarkshire Association for Mental Health (LAMH). As well as accepting referrals from across Health and Social care, including the voluntary sector, V1P also accepts self-referrals.
Veteran peer support workers (PSWs) are all ex-servicemen or women and – crucially – offer a first point of contact for anyone approaching the service.
Dr Maria Gascon, consultant psychologist of NHS Lanarkshire who leads V1P, explained: "The PSWs ensure that veterans see someone, from the very outset, who understands the military context and has first-hand experience of the issues involved in transition from military to civilian life.
"PSWs and clinical staff then work collaboratively, ensuring that veterans receive coordinated support, appropriate to their needs at the time.
"People can contact us by email, phone or can just turn up to one of our access points. We will then arrange a registration appointment with one of our PSWs, where a full assessment of the veteran's needs will be carried out and an individual plan created."
Craig Cunningham, Head of Commissioning and Performance of South Lanarkshire Health and Social Care Partnership, is the veterans' champion for NHS Lanarkshire.
Craig said: "This initiative, which sees V1P joining forces with the Veterans' Cafe, is an excellent example of where clinical experts are working with local groups, focusing on the strengths already within our communities to deliver better outcomes for people. In this case, for people who have often have particular needs as a direct result of their service for the country.
"I would encourage anyone - veterans or their families - who feel they could benefit from this service to get in touch with V1P.
Pic caption: V1P Lanarkshire is a close partnership between veterans, NHS Lanarkshire, the Scottish Association for Mental Health (SAMH) and the Lanarkshire Association for Mental Health (LAMH).
More on V1P
V1P is open to anyone who has served in any of the Armed Forces (full-time or reserve), who wishes to use a specialist service.
We will also work with family members who are over 16, have a one degree connection to the veteran (spouse, parent, child, sibling), and who have an identified need and wish to work with a specialist service.
The service will see anyone for whom Lanarkshire is the nearest regional V1P base – they do not have to be resident in Lanarkshire.
For more information visit: http://veteransfirstpoint.org.uk/drop-center/lanarkshire

How do I get in contact?
V1P will accept self-referrals or referrals from other agencies (statutory and voluntary sector).
People can phone: 0300 303 3051
Email: LanarkshireV1P@lanarkshire.scot.nhs.uk

Or just turn up at our Access Points which are:
North Lanarkshire
Wishaw Library
Houldsworth Centre
Kenilworth Avenue
Wishaw
ML2 7LP
Fridays 11 – 2pm.
SouthLanarkshire
The Toll Booth
Main Street
Lanark ML11
ML11 7EX
Tuesdays 12 - 3pm