Val's blog
Val's blog: World Wide Web with a locality focus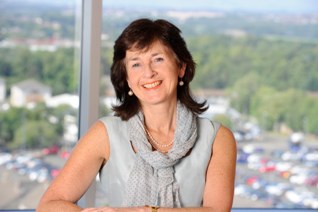 Val de Souza, Director of Health and Social Care
We're living in the communication age and as a partnership we recognise how vitally important good communications are.
Just a few months ago, a communication strategy was approved by our Integration Joint Board.
At its core, this strategy sets out how a measurable, strategic approach to communicating has a key role in supporting the partnership achieve its goals – from the frontline to strategic level – and, ultimately, helping us to improve people's lives.
We are in the latter stages of a series of workshops throughout our four localities to demonstrate these very principles in action - and the feedback has been extremely positive, thus far.
Whilst these workshops have been ongoing, we have now set in place another crucially important foundation stone as we implement our communication strategy.
Our all-new website platform – to be found at www.slhscp.org.uk – has just gone live to provide a wealth of information, news and essential links.
The public-facing website has been developed, first and foremost, as a tool and resource to facilitate our vision: working together to improve health and wellbeing in the community – with the community.
A lot of the vibrant content already on the website, which includes various films, exemplifies how we are supporting people across South Lanarkshire – and crucially how they are being empowered and supported to make a real difference to their own lives.
As well as links to partner organisations and how to get in touch, the website provides all relevant papers and documents relating to the Integration Joint Board, which next meets tomorrow, Tuesday 5 December.
Ultimately, this communication platform is an exciting resource as it's reflective of the breadth and vibrancy of our partnership. We look forward to see it develop in tandem with our work with communities and partners.
And on that note - if you have something you'd like to see posted please contact us. We're particularly keen to hear about connections, challenges and celebrations across the partnership.
Another area of work that's continuing to grow is our Building and Celebrating Communities programme. I recently wrote a blog for the Health and Social Care Academy, a cross-sectoral platform for transformational change using the voice of lived experience.
Interestingly, I was asked to explore the question of 'power' when it comes to combining mutual strengths and capacities of agencies, partners and communities with the aim of achieving positive change. You can read my reflections – and conclusion on this intriguing question here.
Development in other areas of the partnership continues apace. We are currently focused, particularly coming into the winter, on informing the public about the range of health and wellbeing supports and services that are in place in their local areas – and how the public can access primary, community and hospital care, when appropriate.
It appears Santa isn't the only one who will be getting some expert s-elf- help this winter! A new campaign is encouraging people to visit their local health care experts for advice and treatment - without the need to visit a GP or emergency department. The Meet the Experts campaign showcases all the services you can turn to when you're ill.

Watch the series of excellent films here. Forthcoming clips will star staff from South Lanarkshire, including East Kilbride physiotherapist Kimberley McCall, above left, and Kello Hospital's minor injuries nurse Agnes Erskine, above right.
I'll be back just before Christmas with a further update.
In the mean time, thanks for reading and speak soon,

Val de Souza,
Director of Health and Social Care
South Lanarkshire Health and Social Care Partnership

Val's Xmas Open Door Invite
Please be advised that the previously advertised Christmas Fayre on 6 December has now been changed to a mince pie and catch up.
It will now be held on 18 December from 3pm and 4pm. The venue is Val's office, Floor 8, South Lanarkshire Council Headquarters, Almada Street, Hamilton. Spaces are limited so please contact Giuliana Gustinelli on 01698 453700 so we can reserve a place – and a mince pie – for you.

IJB: Udston Hospital update
The Integration Joint Board (IJB) met on 30 October to consider proposals in relation to bed provision and specifically how this may impact on the future of the Douglas Ward at Udston Hospital. The IJB supported the proposal to step-down the use of the ward as more suitable care is identified for patients, with a view to the ward closing by the end of March 2018. There is no change to the Brandon and Clyde wards on the site.
Val de Souza said: "The use of the ward has changed over the years. While a small number of patients receive complex care that can only be provided in a hospital, the majority of patients are either awaiting transfer to a care home or for a package of care to allow them to safely return home - their stay in Douglas Ward is for a relatively short period of time. This redesign will make way for better outcomes for individuals, who will be more speedily settled back at home or in a homely setting. The resources in the acute sector will be transferred to the H&SCP to generate more community options. This is a very good example of shifting the balance of care and resources to allow patients to stay in their communities. All of our long-stay patients have been given a reassurance of a transfer to either Stonehouse or University Hospital Hairmyres. We will work with the patients and their families to identify the best option for them. We are also meeting individually with the staff affected to ensure they are matched into the most appropriate posts for them."
The proposed next stage in the implementation of the Lanarkshire Palliative Care Strategy will be presented to the South Lanarkshire Health and Social Care Partnership (SLH&SCP) Integration Joint Board (IJB) tomorrow, 5 December and the Health and Social Care North Lanarkshire (H&SCNL) Joint Integration Board (JIB) on 12 December. The proposal follows a review of palliative care services and specialist hospice provision within Lanarkshire and is the culmination of a wider palliative care strategy consultation – which has included stakeholder involvement – dating back to 2012.
Val de Souza explained: "From our engagement, this proposed new model reflects the expressed preference of the people in Lanarkshire to receive palliative and end of life care in their own homes or in a homely setting, with comprehensive, integrated clinical care and support.
"It will also complement the community supports and services which are already in place and continue to be developed within Lanarkshire to provide integrated care in support of patients in locality settings."
Val added: "The model also continues to recognise the importance of hospices in Lanarkshire and will enable the continuation of care for patients between hospital care, hospice care and community care."
If approved, both health and social care partnerships will work towards implementing the new model on 1 April 2018.
Partnership award success
A pilot initiative which has markedly improved the lives of people in care homes in Lanarkshire has won a prestigious UK award. The Care Home Continence Improvement project, developed by teams in NHS Lanarkshire and NHS National Services Scotland, triumphed in the highly-contested innovation category at the recent UK-wide GO awards which celebrate excellence in public procurement. The Lanarkshire team were recognised by judges after setting out to improve patient experience by focusing on new approaches to continence care. Research has identified incontinence as a risk factor that increases skin damage, infection and falls in older people. Work is underway to explore the wider implementation of the project. A film documenting the pilot project is available to view here.
South Lanarkshire Health and Social Care Partnership, along with South Lanarkshire Community Planning Partnership, have been recognised nationally for their work in improving young lives. The team picked up a Quality Improvements Award 2017 for their work to improve services for babies, children, young people and families The Quality Improvement Awards are designed to celebrate innovative quality improvement work that is strengthening support and services for families across Scotland, helping ensure every child has the best possible start in life and can reach their full potential as they grow up. Read more here.
Do you have a story? We want to know about your success, your achievements, innovation, challenges and how you're overcoming them.
Get in touch today. Call Euan Duguid in SLH&SCP Communications on 07917041853 or email Euan.Duguid@lanarkshire.scot.nhs.uk