Latest News
All hands to the pump to ensure patient safety
Published: Friday, 05 January 2018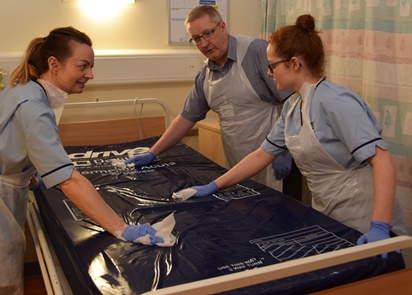 Office staff across NHS Lanarkshire and SLHSCP have been volunteering to support hospital staff and GP practices.
NHS Lanarkshire board secretary Paul Cannon swapped his suit for a plastic apron as he scrubbed beds and handed out patient meals to help hard-pressed clinical colleagues at a busy hospital.
Paul was among office-based staff who put their day jobs to one side to help out as Lanarkshire's hospitals managed unprecedented numbers of patients needing care for winter illnesses.
Backroom staff from NHS Lanarkshire's Kirklands HQ in Bothwell responded enthusiastically when they were asked to assist clinical colleagues, and Paul was delighted to do his bit at University Hospital Hairmyres in East Kilbride.
"I'm normally at my desk, arranging meetings, doing administrative work and supporting the board's chief executive and chair," said Paul, who lives in Cambuslang.
"At the hospital I was helping out in an area of the busy acute assessment unit. The staff trained me to do some 'bed busting' – that's a thorough clean of beds, mattresses and areas around beds after patients leave the unit to ensure beds are ready for the next patient as soon as possible."
After distributing lunches to patients, Paul hit the phones to advise a small number of people that their appointments were postponed due to the pressure on services.
He said: "I was expecting some complaints but it was very gratifying that they all thanked me for taking the time to call and obviously understood the situation we are in at the moment.
"I was very impressed to see the hard work of the regular hospital staff in such testing circumstances and the experience reminded me that we are all in our jobs to deliver the best possible healthcare."
Other staff who helped out at Hairmyres included deputy director of finance Derek Yuille. He found himself packing and shifting boxes to help create more bed space, along with other volunteers from HQ including management accountant Yvonne Kennedy.
Medical director's PA Jacqueline Logan was also phoning patients. Jacqueline, from Blantyre, said: "I was more than happy to help out and it was fantastic to see the hospital staff and volunteers pulling together."
Hairmyres director of hospital services Joanne Edwards said: "The volunteers have been a great practical help and I'm delighted that everyone who has turned up has been so positive.
"Staff with a clinical background assisted with patient care. One public health consultant who hasn't dealt directly with patients for a number of years was taking phone calls from GPs, giving advice on whether patients should go to the emergency department or could be helped by an alternative service.
"I've managed emergency departments for nearly 20 years and this is the most challenging situation I can remember. Staff from across the organisation have really pulled together to help."
At University Hospital Monklands in Airdrie, 17-year-old Ciaran Bennett, from Coatbridge, volunteered to assist clinical staff.
His day job at HQ is to book appointments and re-schedule patients. As part of his volunteer role, Ciaran answered the phone on a surgical ward so that nursing staff weren't interrupted while providing care for patients.
He said: "I volunteered because I have family members who are nurses and I know how busy they are. I thought it was a good opportunity to provide some help on the wards and to get more experience."
Senior charge nurse Janet Prentice said: "Ciaran has been an excellent help by answering phones and undertaking administrative tasks. That's allowed nursing staff to focus on providing care for our patients. His help has taken a big pressure off us."