Latest News
New drop in service offers advice on gadgets and living aids
Published: Friday, 01 December 2017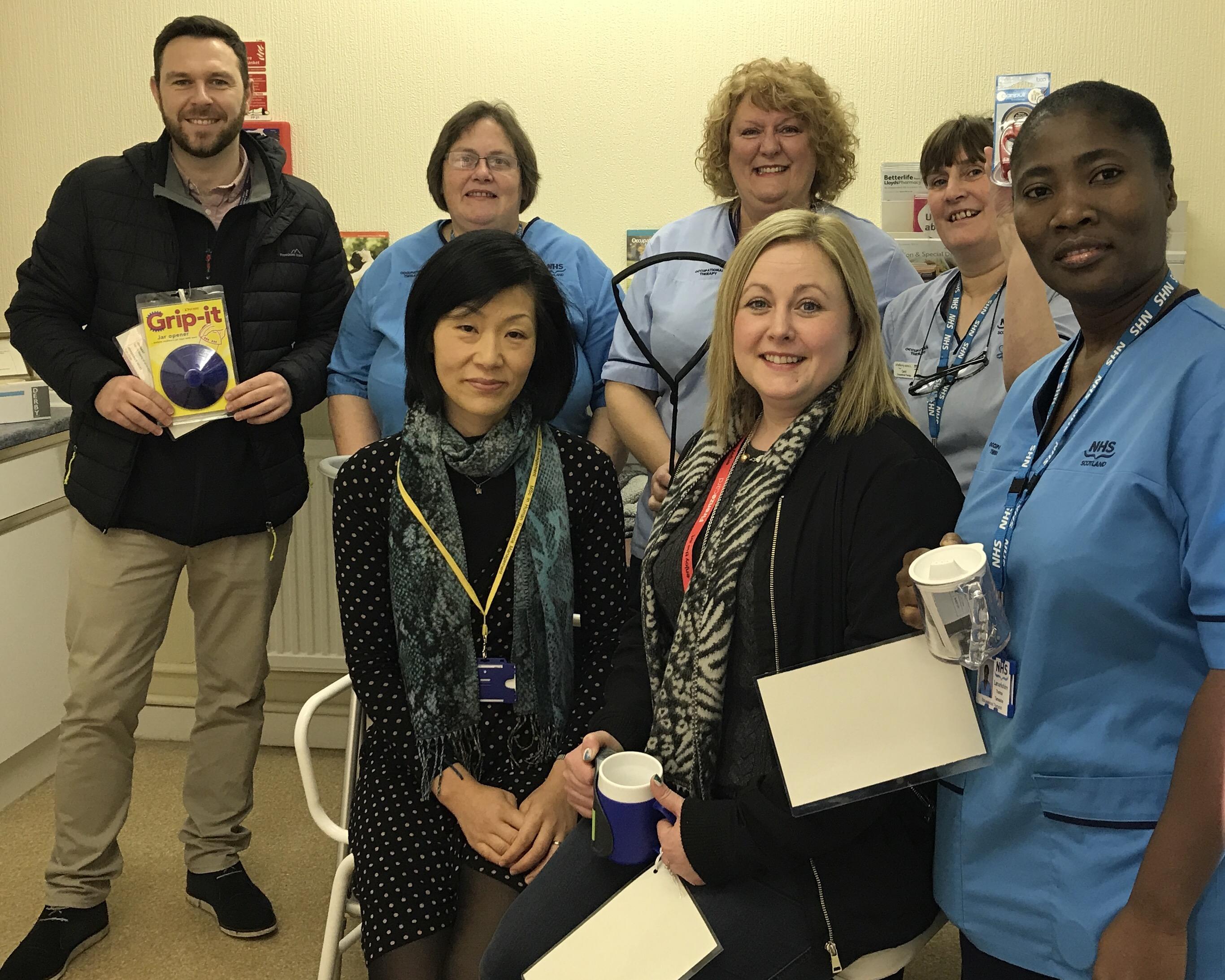 The OT team are in place to offer advice and tips on readily available gadgets and living aids
A new drop in service offering advice and tips on readily available gadgets and living aids is being launched in Clydesdale.
Occupational Therapists from South Lanarkshire Health and Social Care Partnership (SLHSCP) began hosting the sessions on Wednesday, November 29, at Lockhart Hospital in Lanark.
Running every Wednesday from 1:30pm-3:30pm until the end of January (except 27th December and 3rd January) Catherine Brown, Occupational Therapy (OT) Team Leader in Clydesdale explained the open door events have the clear aim of supporting independent living.
"Lots of equipment is readily available – especially from online retailers and shops – that can be useful for people who are experiencing difficulty with completing day-to-day tasks," said Catherine, who has instigated the drop in service with Clydesdale OT team leaders Paula Miller and Anne Cochrane of South Lanarkshire Council.
"Aids can make living easier for a number of challenges. A range of long handled items are on sale to the public, for example, for specific purposes when reaching, bending and stretching is an issue. These include sponges, lotion applicators and window openers.
"Whilst these aids help maximise function, if they are not appropriate to the individual's need or circumstances, or are used in the wrong way then they can be detrimental.
"The drop in service has many of these aids on display so the clear aim is about offering advice to anyone who comes along, as well as demonstrations on how to use these aids safely and effectively."
No aids or equipment will be provided during the sessions but health and social care staff will be on hand to signpost people to services, help and support, including ways of developing healthier lifestyles.
There will also be a focus on making people's home and surroundings more appropriate to maintain a safe, healthy and independent lifestyle.
The event is part of NHS Lanarkshire and SLH&SCP's commitment to involving people in the development and delivery of health and social care in Clydesdale, now and in the future.
Val de Souza, SLH&SCP's Director of Health and Social Care, said: "This partnership's vision is working together to improve health and wellbeing with the community – in the community. This Drop in Service exemplifies that sentiment."
When & Where
You can come and see the team on a Wednesday afternoon until 31st January 2018 (except 27th December and 3rd January ) between 1:30pm-3:30pm at Lockhart Hospital, Whitelees Road Lanark ML117RX. No appointment necessary.